Certified Digital Marketing Specialist (CDMS) (อบรมเชิงปฏิบัติการพร้อมสอบประกาศนียบัตรในระดับสากล)
Online
Intermediate
English
Professional Certification Program
Program Certified by iTrain Asia Pte Ltd
คอร์สอบรม Online เนื้อหาแน่นๆ สำหรับ Digital Marketer ที่จะทำให้คุณเข้าใจเรื่อง Digital Marketing ในทุกแง่มุมและช่องทาง เช่น search engines, websites, PPC, social media, email, mobile และอื่นๆ รวมไปถึงการวิเคราะห์และวางแผนกลยุทธ์การตลาด
เมื่อผู้เรียนได้ผ่านการเรียน และทดสอบความรู้และความสามารถตามกำหนดเกณฑ์ของหลักสูตร จะได้รับ E-Certificate และ Digital Badge ในระดับสากล
Course description
Time
Time :
09:00:00 - 16:00:00
Training Date :
4-8 March 2024
Instructor
Venue
Certified Digital Marketing Specialist (CDMS) (อบรมเชิงปฏิบัติการพร้อมสอบประกาศนียบัตรในระดับสากล)
Certified Digital Marketing Specialist (CDMS)
Course Overview:
Digital Marketing specialists are high in demand. According to a report by McKinley Marketing Partners (Statistica), demand for marketers far exceeds supply in key marketing areas—with over half of marketing talent hires being "digital". PayScale.com estimates that an average digital marketing manager's annual salary averages around RM90,799 annually (as of March 2018).
The Certified Digital Marketing Specialist (CDMS) course provides a comprehensive introduction to the core essentials of digital marketing, which is delivered through various channels such as search engines, websites, social media, email and mobile.
You will learn practical methods of how to harness the power of digital marketing as the core driver of your company's marketing strategy; how to apply successful marketing campaigns, measure outcomes and plan a marketing strategy. The course content is designed by industry experts with in-depth experience in digital marketing, strategy and planning.
Course Objectives:
Gain an in-depth understanding of the core essentials of digital marketing andkey channels of delivery, including search engines, websites, PPC, social media,email and mobile.
Harness the power of digital marketing for your company, business or startup
Be an informed marketing manager or practitioner who can plan, optimize andfinetune marketing strategies for your company/organization.
Main Course Topics:
Introduction to Digital Marketing
Search Engine Optimization (SEO)
Search Engine Marketing (SEM) and Pay Per Click Advertising (PPC)
Display Advertising
Email Marketing
Social Media Marketing
Analytics
Strategy and Planning
Mobile Marketing
Prerequisite:
Marketers, Sales People and any Individual who wishes to deep dive into Digital Marketing as a whole, and learn how to effectively apply Digital Marketing strategies in their company's AMP plan.
EXAMINATION:
No. of Questions: 50 Questions
Duration - 2 hours
Exam Type - Multiple Choice Questions (MCQ)
Compulsory Passing Rate - 70% **You will receive a professional CDMS Certification upon Passing the Exam.
Learning Outcomes:
Students will be able to learn how to harness the power of digital marketing as a core driver of the marketing strategy for a company.
DAY 1
1. Search Engine Optimization:
The SEO module will teach you about how to leverage key techniques to improve your website's organic ranking on search engine results pages (SERPS) to drive more traffic. It covers key technical insights to cultivate an effective SEO strategy.
Stakeholders in Search
Customer Insights
On & off-page Optimization
Meta Tags, Layout, Content Structuring
Internal Linking – Site Navigation
2. Search Engine Marketing:
This module gives you essential skills to strategies, plan and manage a Search Engine marketing campaign. You will learn how to develop an effective PPC strategy and achieve demonstrable ROI.
Google AdWords
Campaign Creation and Management
Keyword Selection
Conversion Tracking
Targeting & Analytics
DAY 2
3. Web Analytics:
Web Analytics using Google Analytics training module provides you with techniques to get the best possible return on the investment you have already made in your website design, search engine optimization and marketing campaigns.
Getting Started with Google Analytics
Understanding Dashboard – Audience, Advertising, Traffic Source, Content,Conversions
Taking decisions based on Analytics Reporting
Defining Business Goals and Objectives
Tracking Social Media Traffic
Tracking SEO Traffic
Integrating your Google AdWords campaigns into Google Analytics
Measuring Tools and Methods
Measuring your Site's ROI
DAY 3
4. Social Media Marketing:
In this module you will learn how to build brands, generate leads and aggregate an audience on Social Media, and also gain the skills to effectively engage with customers across a diverse range of social media platforms. From this module, you will find out how to set up social media campaigns, define goals, and set KPIs.
What is Social Media Marketing?
Overview of Facebook, Twitter, LinkedIn, Blogging, YouTube and Flickr
Building Brand Awareness Using Social Media
Social Media Management
Insights and Analytics
Best Practice Examples & case Studies
5. Email Marketing:
This module will teach you about a number of techniques which should be employed for effective email marketing and pitfalls to avoid. You will also learn data capture and subscriber segmentation, email design and content, email delivery, measurement and how to grow and manage a subscriber database.
User Behavior
Segmentation, Key Metrics
Best Practice Case Studies
Split Testing
Campaign Process Optimization
6. Mobile Marketing:
This module provides you with a solid understanding mobile platforms, examine the potential, explore examples and case studies of how mobile platforms are already being exploited and discuss the potential applications for your organization and the key strategic planning issues, particularly with a view of the "best fit" and integration with existing marketing activity.
SMS Strategy
Mobile Advertising
Mobile Optimized Websites
Proximity Marketing
Strategic Steps
Review & Testing
DAY 4
7. Display Advertising:
The module covers the core concepts associated with digital display advertising as well as key campaign aspects including: ad formats, campaign setup and planning, target audience definition and publisher selection, as well as campaign administration, budgeting (including different pricing metrics), measurement and optimization.
Tracking your Campaign
Optimizing the Campaign
Campaign Planning
Running Effective Ads
DAY 5
8. Strategy & Planning:
The Strategy and Planning module provides you with the skills to create a formal digital marketing plan for your organization, enabling you to work effectively with a digital agency or external contractors as required, and establish an approach that will allow you to implement a successful digital marketing strategy.
Topics include:
Situation Analysis, Planning, Budget, Measurement
Information Gathering & Research
Key Strategy & Planning Concepts & Methodologies
Best Practice Case Studies
Payment can be made by:
Cash or Credit Card or Bank Cheque payable to "สำนักงานพัฒนาวิทยาศาสตร์และเทคโนโลยีแห่งชาติ" (a post-dated cheque is not accepted) on the first day of the service or within the last day of the service.
Account transfer and send the proof of the payment (the deposit slip) via email ttd@swpark.or.th

ธนาคารกรุงเทพ สาขาอุทยานวิทยาศาสตร์
Saving Account Number:

080-0-00001-0


Account Name:

สำนักงานพัฒนาวิทยาศาสตร์และเทคโนโลยีแห่งชาติ

ธนาคารกรุงไทย สาขาตลาดไท
Saving Account Number:

152-1-32668-1


Account Name:

สำนักงานพัฒนาวิทยาศาสตร์และเทคโนโลยีแห่งชาติ
Notes:
Withholding tax (3%) is exempt.
Should you need to withdraw, you must send the notice of the withdrawal in writing no later than 7 working days before the commencement date. The cancellation less than 7 days will be subject to a fine of 40% of the fee.
Software Park Thailand reserves the rights to cancel courses due to unforeseen circumstances.
Contact Person
For more information, contact our course coordinator on:
เสกสรรค์ สังสุข (อิฐ)
Mr. Seksun Sungsook

: +662 583 9992 Ext.
81421

: +6681 913 1828

:
seksun.sun@nstda.or.th
You are encouraged to use the course schedule as a guide to plan your training. The schedule is accessible at
www.swpark.or.th
for more information.
34,000 THB .
กำหนดอบรมวันที่ 4 - 8 มีนาคม 2567
เวลา 09.00 - 16.00 น. (Online ผ่าน ZOOM)
-Click-เพื่อดูตัวอย่างประกาศนียบัตร-
**บรรยายเป็นภาษาอังกฤษ โดยวิทยากรต่างชาติ**
***สำคัญ!!! กรุณารอการยืนยันเปิดการอบรมจากเจ้าหน้าที่ก่อนการชำระค่าลงทะเบียน***
สอบถามข้อมูลเพิ่มเติม โปรดติดต่อ เสกสรรค์ สังสุข
Tel: 02-583-9992 Ext. 81421, 081-913-1828
Enroll now
---
Course Detail :
Time :
09:00:00 - 16:00:00
Training Date :
4-8 March 2024
---
Instructor info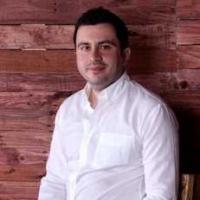 Mr.Amir Haghbin
Digital Marketing Instructor